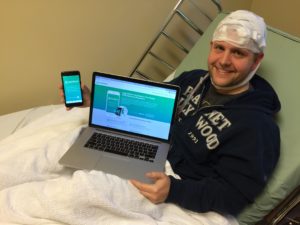 SeizAlarm is an iPhone and Apple Watch app that allows those with seizure disorders such as epilepsy to request help from emergency contacts when they need it.  Greg Pabst, who was diagnosed with epilepsy in 2006, came up with the idea in early 2015 not long after the Apple Watch was announced.  Greg, who frequently had auras (simple-partial seizures) several times a week, always wanted a way to quickly signal for help just in case one of his auras became a tonic-clonic (grand mal) seizure.
Greg's had some setbacks with the treatment of his condition in late 2014 which required new rounds of tests and evaluation.  Greg and his neurologist were discussing existing services that help those who have epilepsy.  His neurologist mentioned that it was only a matter of time before someone made an app for the Apple Watch and that is when Greg realized it should be him.
Greg began doing research on the existing services and quickly found that none of them that were available at that time had iPhone support, as most were focused on Android devices.  Also, the majority of the services required you to buy their own hardware which was an additional cost.  iPhones make up the majority of smart phones worldwide, so it was surprising to Greg that there was a void in this market.  Making SeizAlarm an app that didn't require custom hardware was Greg's goal, so users could use the service without that extra cost.  The Apple Watch, which was on the horizon, would allow users quick access to the help request features of the app but was not a requirement.  Greg, being a web designer and user experience expert, had the skill-set needed to do the application design and immediately began work on the app.  Greg partnered with a friend and former colleague, Bryan Heitman, who had the application development skills needed to code the app and make it work.   Three months later, SeizAlarm was born and became the 1st seizure related iPhone app with Apple Watch support.
Days after the launch of SeizAlarm, an article was written about the app on a popular Mac news website, Cult of Mac.  SeizAlarm was also covered by the Orlando/Tampa news channel News 13.